---
ST-Computer - Current Issue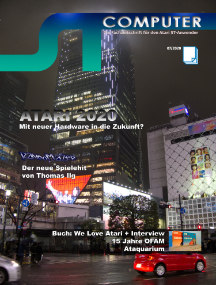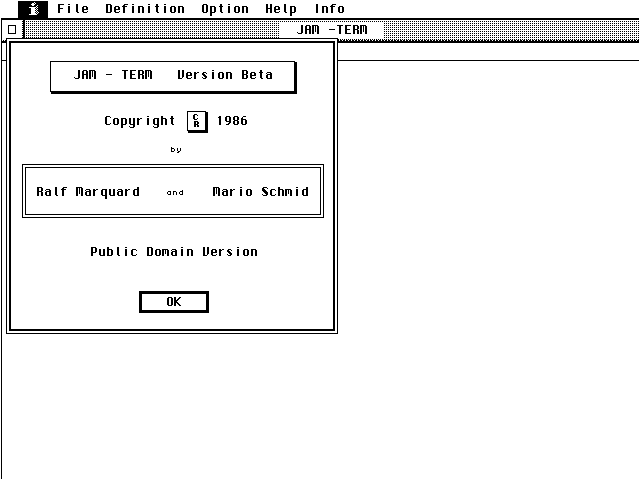 XLisp 1.4
AI language (artificial intelligence) for creating programs that are capable of learning. With detailed instructions in English.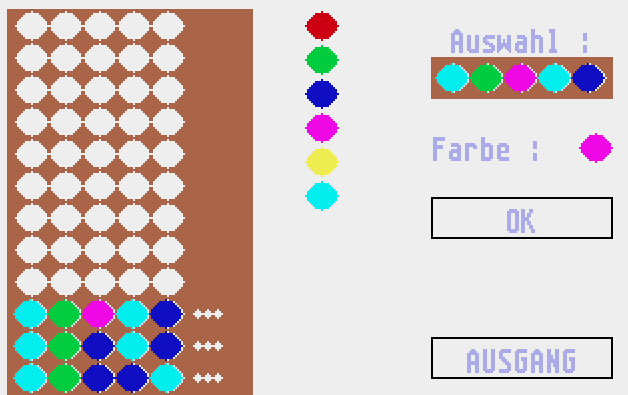 Toy Prolog
The programming language of the new generation. Incl. 95 KB manual.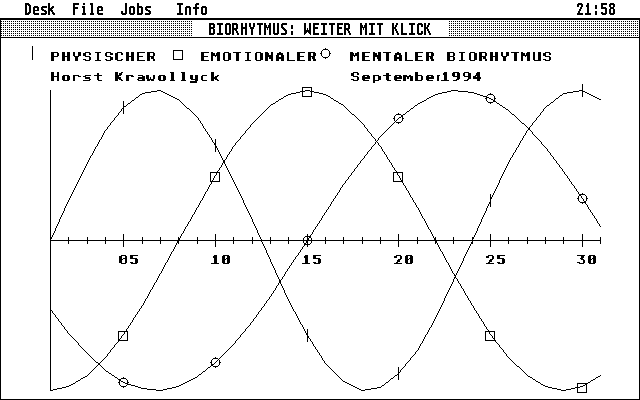 Druckeranpassung für NEC P6/7-Hardcopy.

NEC-Emu
Hardcopy driver for the NEC Px series. Creates hardcopies in 12 different sizes and contrasts and contains a printer spooler.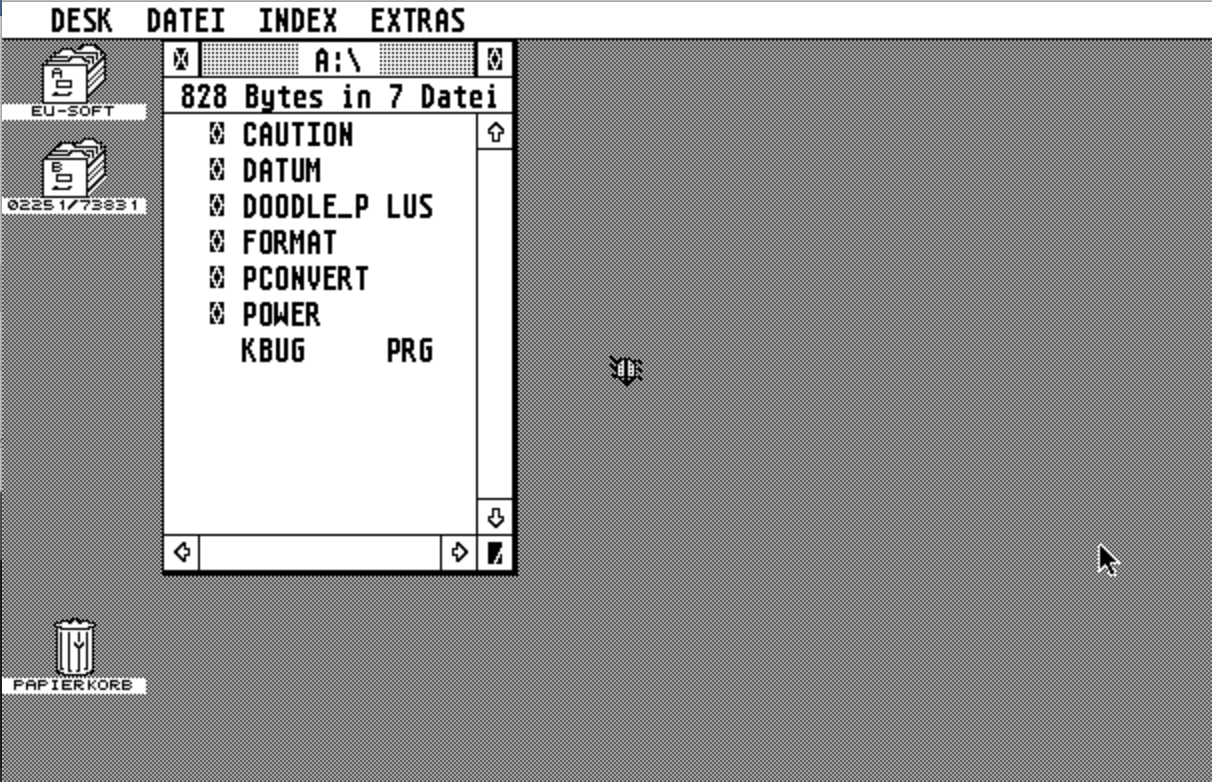 Power
Special character set
Smooth
Scrolls a 64 Kb Doodle image.
Datum

Kbug
There are bugs running around on the screen.
Doodle+
Painting program incl. pictures.
Toram

Vokabel.GFA

VKT
Vocabulary trainer
Plot

MyTerm
Terminal program in GfA
Etikett

Drahtmod

Adressen.

Fractals

Tauris
TAURIS_ST is a strategy game for 1-8 players. Every missing player is replaced by the computer. All players are divided into 4 groups of 2 players each. Each group controls one city and plays together. The purpose of the game is to be the last city left.
Grafik und Sounddemo
Nice sound and graphic demo. Zottl, Knurp and Schnatter are hitting the keys.
Konvert

NEC-Hardcopy-Treiber

CLI

IBM Drive
Format your disks to MS-DOS spec.
Check

Convert
Convert is only useful for those who works with Polish text on Atari. It converts Polish sign created on other platforms (Mac, pc, Amiga,...) to AtariPL.
Scientific

ST-Computer-Kalenderwettbewerb
All pictures of the ST calendar competition published in issue 1/87 ST, including Pic-Compactor.
Fram 77
Static calculations for constructors.
Kalender (Roth)
Calculate with the date. holidays, annual calendar on your printer, half-yearly calendar on screen, monthly overview, weekday to date, date minus number of days, date plus number of days, calculation of days between dates, conversion of calendar date to Julian date and vice versa.
Magic Painter 1.2
Simple painting program
Meßwert

Vika-Etikett
VIKA prints video and audio cassette sleeves.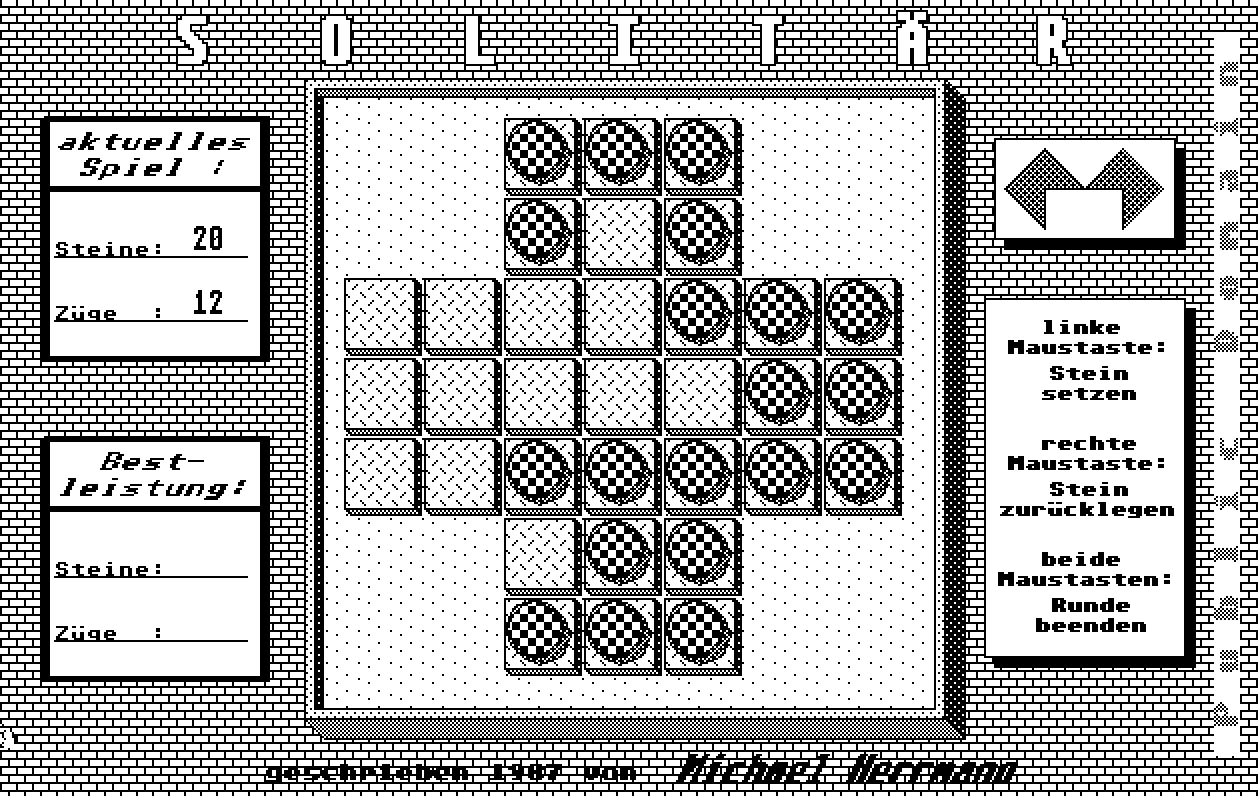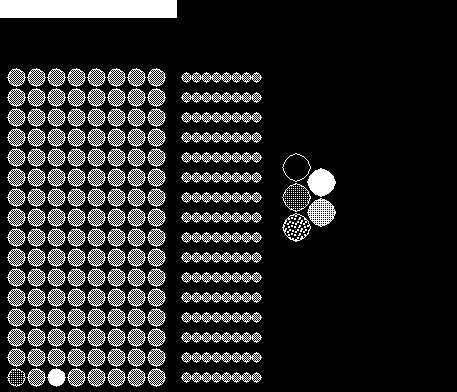 ST-Phone (Telefonnachweis)
Calculation of telephone costs
Memory.

Termin.ACC (M)

Lager
Inventory management
Master
A mastermind clone. The unique feature: The level of difficulty can be increased almost at will. Up to 18 different colours and up to 18 rows make the puzzle almost unsolvable.
Con_ST
Terminal program
Complex

KFZ-Statistik
Statistics application for your car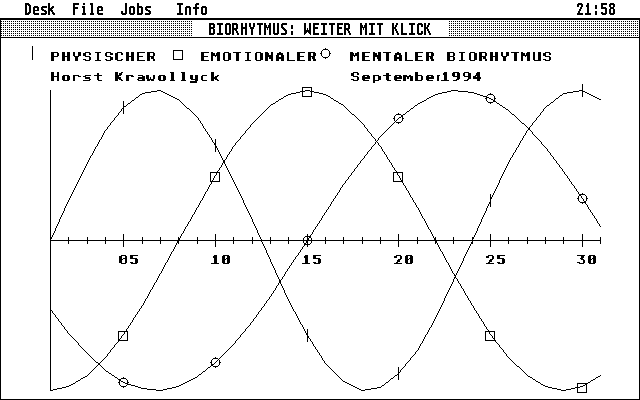 P2 Init
Atari character set for NEC Pinwriter P2
Word 1.4

1st Step
Calendar and biorhythm
Uhrzeit

Musik.

Mega-Copy 87
Formatting, copying and hard disk backup program.
EP

Copy FMT
Backup program as an accessory.
Moleküle 3D 2.01
Calculates 3D single images and image sequences of molecules, with up to 256 atomic coordinates and 256 bonds. Finished animations are displayed in the color version with stereo effect. After numerous improvements, the final PD version has been reached with this version.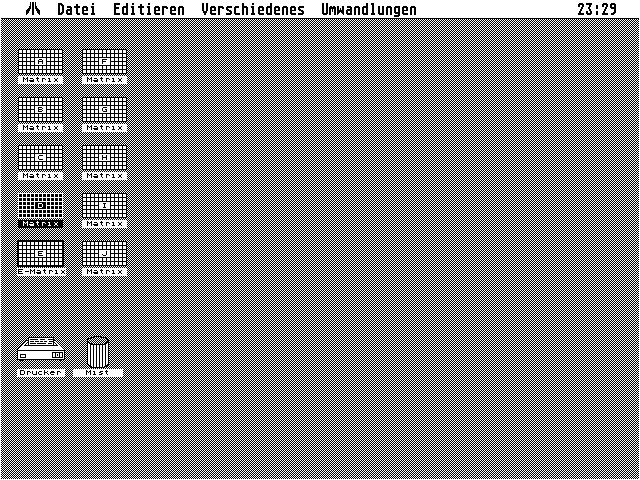 LIB
Collection of ST-Pascal libraries, including source and instructions, string conversion, date and time calculations, text formatting (left, right and centered)
Matrix
Matrices calculation program in GEM. Max. 16x16 matrices, double precision (64 bit).
COMPRESS
Compresses any files.
Diskname

Eti-Master
Label printing for DB-Master.
Lable

SM-Konverter
Converts SM-Manager texts to 1st Word texts and back.
Themadat
Associative database with up to 200 records.
Urlaubskalender
Helps to calculate the vacation time optimized.
Archive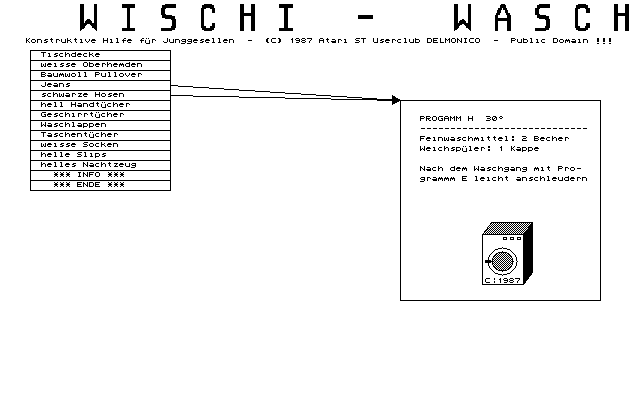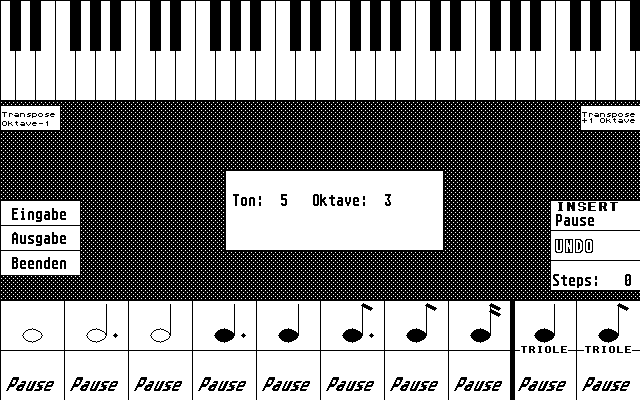 Bildschirm-Disposition
Scrolls a picture sequence over the screen. Ideal for your own slideshows or advertising graphics.
Directory Printer
Prints directories.
Hacomini
Creates hard copies in miniature format (48 x 68 mm)
Helper

Midi Drum ST
Rhythm machine with easy and versatile editable sounds.
MIDI Play
Allows you to input, save and output MIDI sequences.
Überweisung
Printing program for bank transfer forms
Datobert
Graphical representation of data as line and pie graphics, as well as three-dimensional bar and area graphics.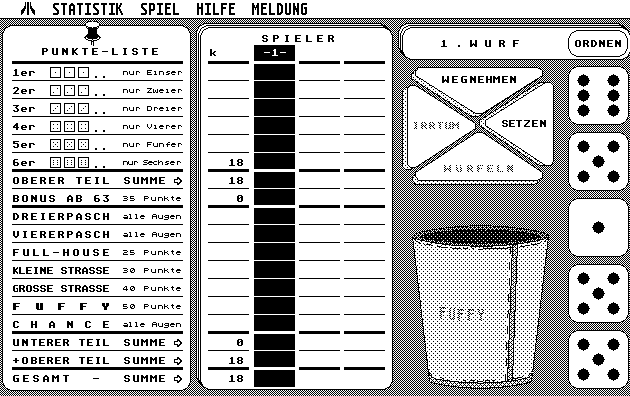 STudio
Drawing with extras (e.g. measuring)
Van Gogh
Painting, drawing and animation program for all three resolutions with many features. Fast conversion of an image to the current resolution. Processing of three images simultaneously, integrated sprite editor, possibility to create animation sequences and 3D part with rotation and translation bodies.
Testbild

Iconedit
Create sprite, mouse and fill patterns. Transfer to your own programs.
Printset
Help for configuring printers. Prints all special characters.
Degas Elite Font Maker
Degas Elite is able to include various fonts, which must be specified in the file ASSIGN.SYS. This file is created automatically.
Disk Checker
Checks a disk for errors. Ideal help when using 'cheap floppy disks'. Formatting and read/write check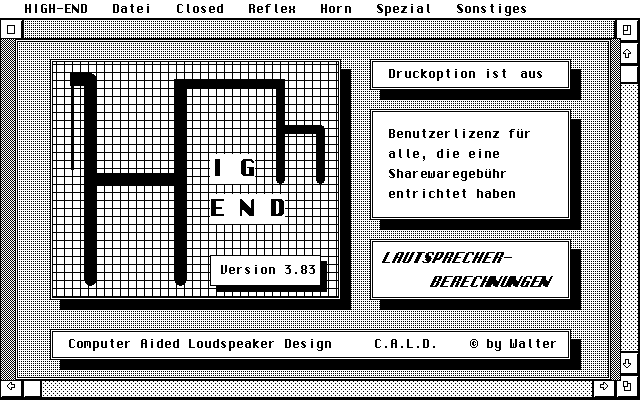 Astrolabium
For drawing star charts or specific parts of the sky, at any time, at any place. With data of about 9000 stars.
High-End
Helps with calculations when building your own loudspeaker boxes. A large data collection is included
Orbit
Shows the orbit of satellites as data or as moving graphics over the world map. Therefore e.g. well suited for radio amateurs.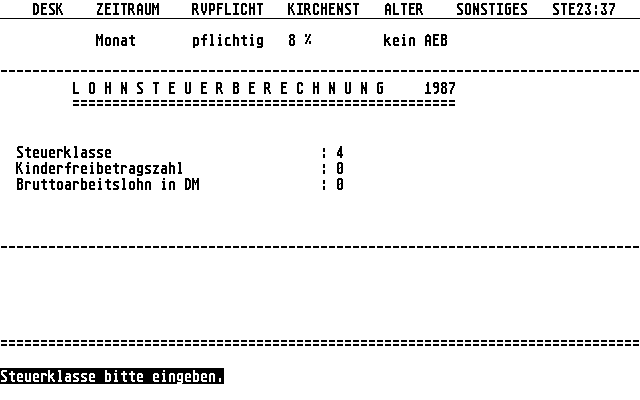 Video-Archiv 2.6
Video cassette management, with time and tape position order
Maxidisk
MaxiDisk installs a resetproof ramdisk, which compresses the files stored on it. It is usually possible, to store about 750 kB in a 500 kB ramdisk
Time
Utility to set the date and time. Is called by Maxidisk on request after system start, setting persists after reset.
Mononeo/Neosave
Saves the screen to disk with Alternate + Help, in Doodle or NEOChrome format, depending on the resolution.
Autocopy
Copies any files from a drive to the RAM disk (e.g. MAXI-/FLEXIDISK). At system startup, you can choose between ten prepared copy lists and thus achieve the appropriate configuration for each application.
Lohnsteuer
Income tax calculation program
Haushaltsverwaltung
Control over the private budget calculation. Yearly overview.
Datebook
Reminds you of important dates or birthdays. For this purpose, it looks in a simple text file at system startup. Freely designable. Appointment on a certain day or even in the month in question.
ARC
The well-known archiving program now also packs whole folders. Including a shell that supports folder packing and a shell for older ARC versions.
Konv One.

Fontdisk

Periodensystem der Elemente
The periodic table of the elements: chemistry learning program with many options. Contains the data of each chemical element.
STatiSTics
Transfers tabular data from a spreadsheet or text editor and evaluates them statistically. Graphics created with Statist can also be saved as an image or ASCII file and further processed with common DTP and text programs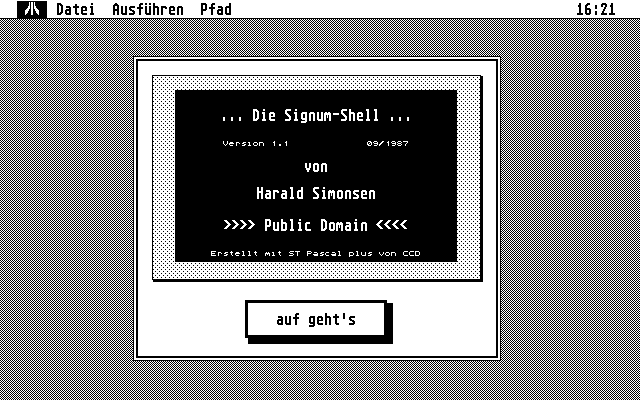 SignumShell
Shell for Signum. You can now switch between the editor, the different print programs and the character editors via menu.
TOPS
The Other Pascal Shell allows the integration of Tempus, creates cross references and contains commands to copy, delete and rename files.
Tempelmon 1.8
Monitor/debugger. Also for STE/TT. The latest version 2.01 of the Monitor/Debugger by Thomas Tempelmann. Highly recommended for all developers.
Führerschein
About 500 questions for the theoretical driving test.
Ramdisk (Böhm)
Like Maxidisk, but without compression algorithm. With an auto copy program to copy certain files into the RAM disk.
Maxidisk
MaxiDisk installs a resetproof ramdisk, which compresses the files stored on it. It is usually possible, to store about 750 kB in a 500 kB ramdisk
CIG-Header-Converter
Converts files to GFA-Basic and GST-Assembler.
Bundesliga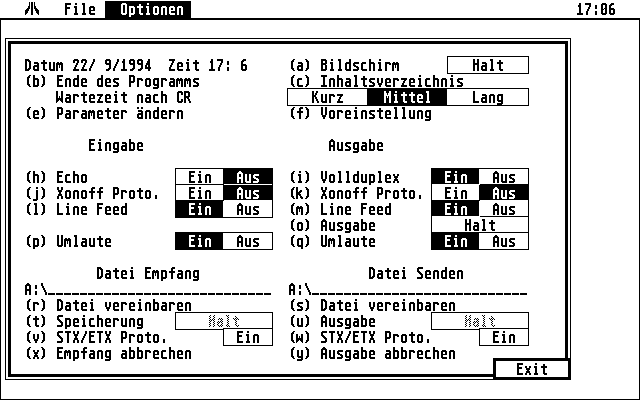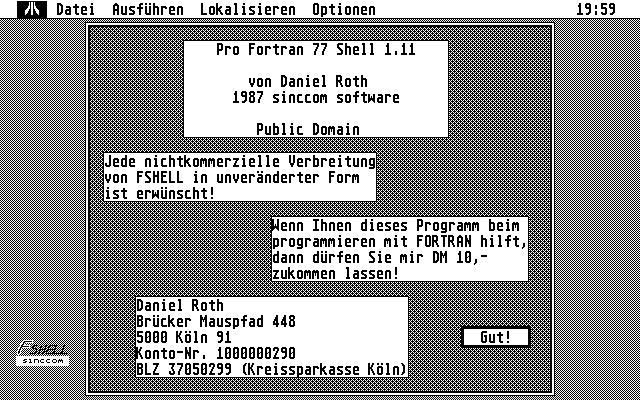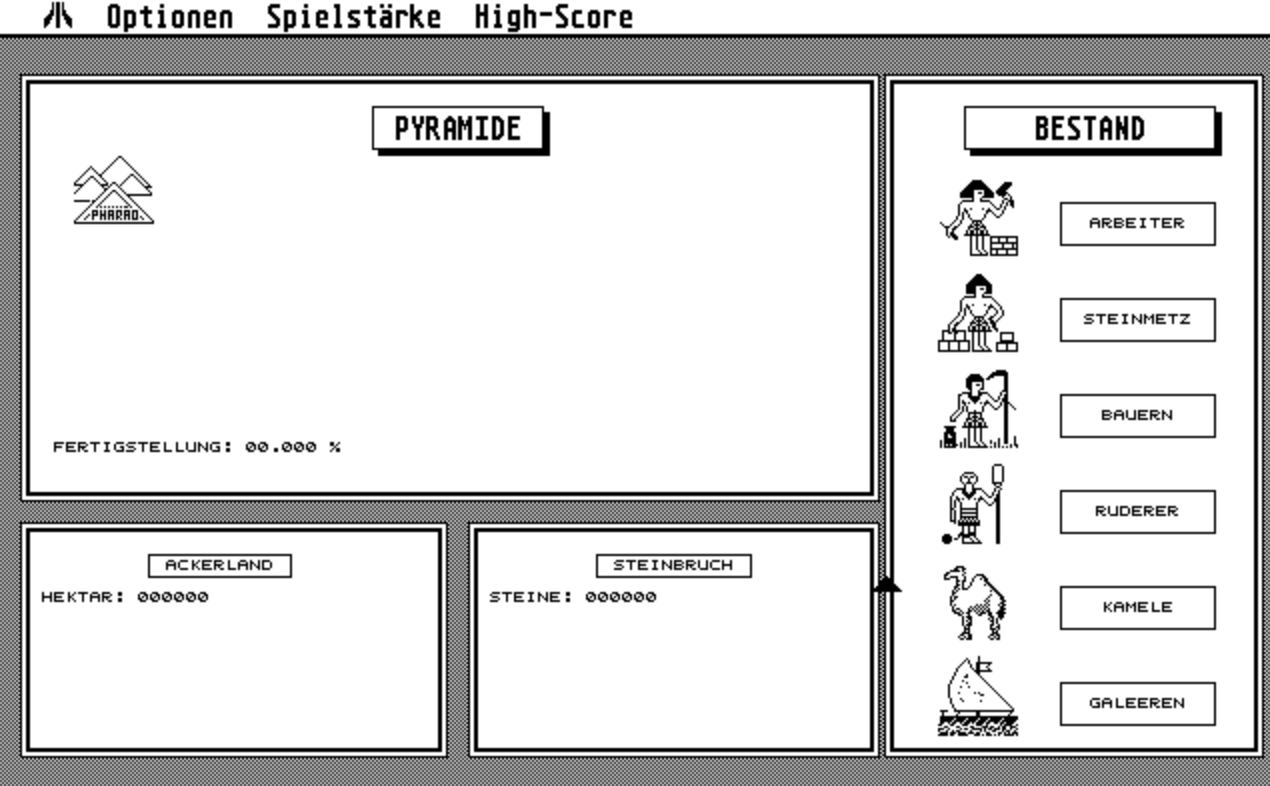 Neo2Mono
Fast conversion from colour to monochrome images.
Zeichensatz

STerm

Sound.BAS

SpriteEdit

Music

Heifmoon

Filecopy.

Basicprogramme.

Auto

Apfel
Excursion to the land of the Mandelbrot set
PrintDir.

VT100 Terminal Emulator 2.10 (Demo)
Terminal program with function keys.
Volume Label Changer
Change the disk name
Simple Mouse Editor
Simple Mouse Editor: create your own mouse icon.
Shell
Compile/Assemble/Link/Edit at the push of a button
Score Four
Score Four is based on the commercial game Connect Four. In Connect Four, two players drop checkers into an 8x8-square board which stands upright. The checkers fall to the bottom of whatever row they were dropped into. Each player tries to get four of his checkers in a row horizontally, vertically, or diagonally. In the preliminary version of Score Four, the computer will be your opponent.
QDate

Extract.

MemTest2

Kermit

GEM Demo
Many graphic demos with animation.
Fonts

Fontmaker ST

Editor

DiscMonitor 520 ST
Demo of a disk monitor.
Compare

Accessories

Mushroom Analyzer
Explains the bombs after a system crash including the affected addresses.
Sounds

Ripcord
Skydiving target jumping
Ramcopy.

No-Frills Sector Editor
Disk monitor
Calculator
CALC.PRG is a simple desktop calculator in the style of the TI Programmer. The program is primarily an example of C programming and only secondarily really intended as a desktop calculator.
Moses-Terminal
DIAL-UP.
Disk-Monitor 1.4
Disk monitor.
DirPrint

Analog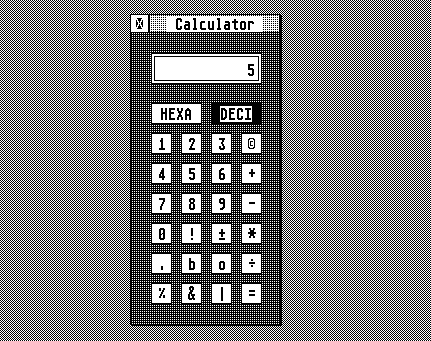 Uematics

Time

ST TeleVideo 924
A televidio 924 terminal emulator (all codes that we use) for the Atari 520 ST.
Scientific Calculator
Scientific Calculator by M. Weller. This public domain calculator offers a vast array of features that make it an extremely powerful and useful tool.
PrintDir

Micro RTX (Demo)
MICRO RTX from Beckemeyer Development Tools is an OS replacement which works with TOS and allows multitasking of TOS programs. It provides the system services necessary for implementing multitasking in your programs. Included with the SHAREWARE distribution is the complete MICRO RTX programming manual describing how to use MICRO RTX in your programs.
HI50

Dvorak
An .ACC that lets you use the efficient Dvorak keyboard layout. Originally written by Alex Stevens, it has been modified by Mike Bales.
Druckertreiber

Diskette

Compress

Address

Accessories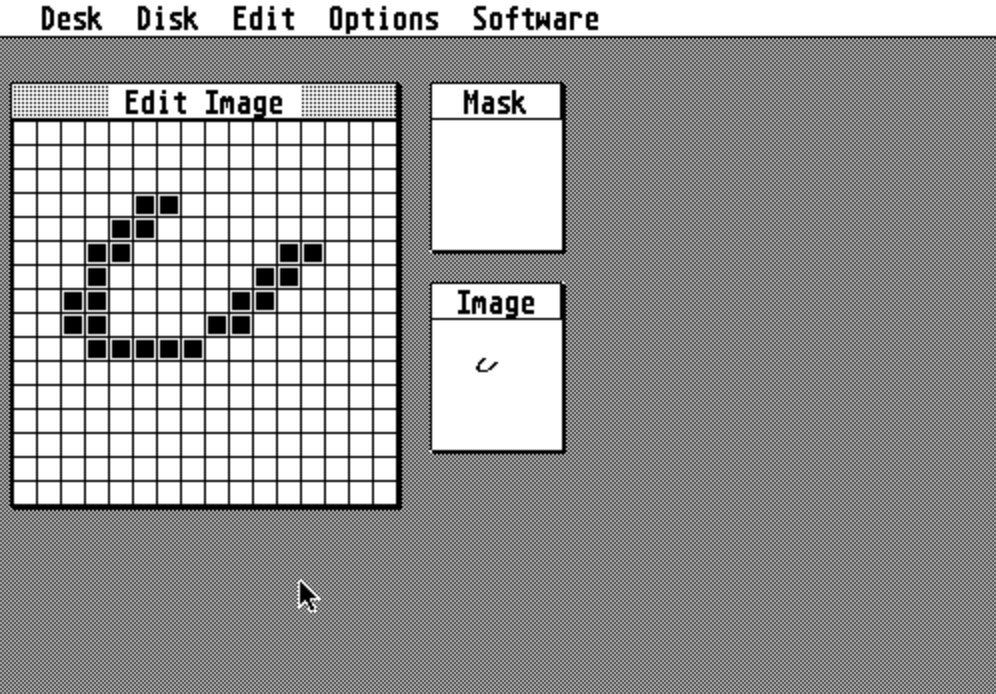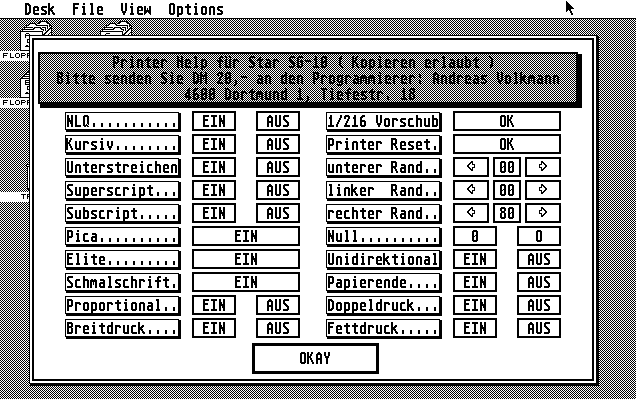 Jam Term
terminal program
Murray
The cartoon conversation partner in your computer. In German and with animated graphics.
Ramdisk (Mager)
Ramdisk with source in Assembler.
Schach

ST Grafic
Motion graphics in 3D.
Starhelp