FaST Club Entertainment 100
FaST Club Entertainment 110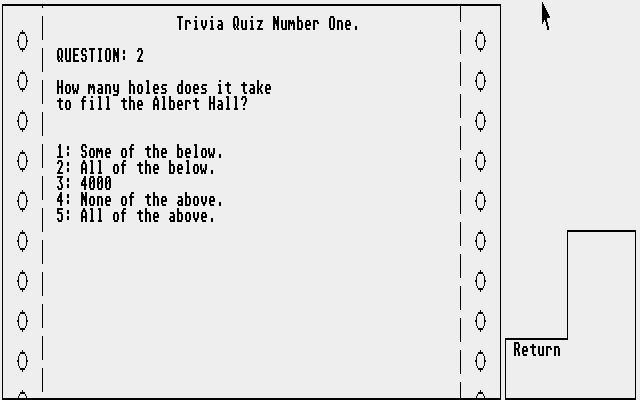 FaST Club Entertainment 120
FaST Club Entertainment 121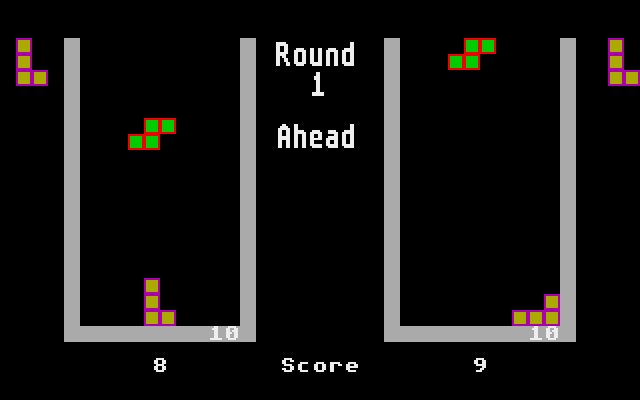 FaST Club Entertainment 130
FaST Club Entertainment 140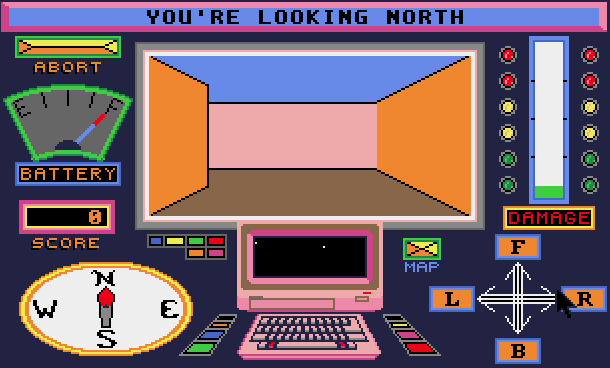 Air Traffic Controller
Test your resilience as an air traffic controller. In the battle against the clock, you have to land and take off safely plane after plane
Caesar 1.1
The year 200 before Christ is written. The struggle for supremacy in the Mediterranean and Europe is in full swing. Six different powers are trying to decide the game for power for themselves. As one of five players you are Lord of Rome, Carthage, Macedonia, Persia or the Celts; the computer embodies the Germanic tribes. By skilful use of the army, espionage, building of fortresses, 'development aid', sabotage but also negotiations it is possible to expand your own sphere of power. Of course, external factors such as the grain harvest or the population also play a role.
Celestial Ceasars
Strategy game for 1-4 space cadets in which you explore space, conquer planets, build spaceships and fight the enemy fleets
COREWARS

CRYPTOGRAM

Cube Maze
The object of the game is to find a hidden chalice in the maze, which is a cube of 3 to 8 squares: up to 512 locations. You can move forward, turn left, right, around, up and down. Using these in combination can get you standing on your head, so take care. The only indications of your whereabouts is the distance and level. The rest is up to your spatial memory.
Mile Game
You aim to travel 1000 miles before the opponent does. On the way you can inflict problems on the computer as it can on you. Only selecting the correct menu options will get you out of trouble. Both player and computer get awarded points at the end of each stage.
Napoleon
Strategy game similar to Risk. The aim is to interact with neighbouring countries on a non-peaceful basis
Öl-Imperium
Defeat your opponents and rise to become an oil baron by producing and selling oil at a profit. Of course, sabotage is also the order of the day, because the competition never sleeps
Rubik's Clock Emulator
If you haven't noticed, good old Rubik (of Rubik's Cube fame) has come up with another dastardly device to frustrate people the world over. It's called "Rubik's Clock" and it's a "device" with two faces with 9 "clocks" on each side, 4 buttons and 4 "wheels" that you can move to move various combinations of clocks on both sides of the device, depending on which wheel is turned and the positions of the buttons. The object of all this is to get all clocks on BOTH sides to point to 12 (the "clocks" are really dials and only have 1 "hand") all at the same time. It's even harder than it sounds.
STARTREK

Superhirn
Mastermind game
Tunnel Vision
Maze game created using GFA Basic. You can leave trails, gain needed energy to keep seaching, see maps and more.
Twixt
The Board: is a square matrix, 24 * 24 of holes. In each hole may be placed a peg. The holes along the edges of the board are 'Home Territory' holes. Each player controls two sides, designated by lines of his color marking off his territory. The Object: for one player to connect an unbroken line of Twixes from one of his Home Territories to the other.
FaST Club Entertainment 141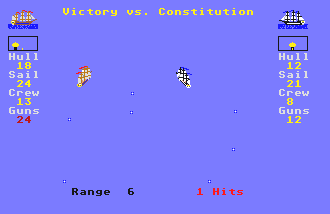 FaST Club Entertainment 150
Aerius
A French puzzle game where you must move coloured cubes into boxes to form lines of the same colour, which then disappear.
Bang!
The idea of the game is to mark the position of mines on a grid without uncovering them. The size of the grid varies depending on the level of play, as does the number of mines to be found. The game is played against the clock (displayed top left of the grid). The game finishes when either you uncover a mine, or you have correctly marked all the mines in the grid.
Block X
BLOCK-X is a game consisting of 200 screens of logic puzzles. The game is divided into 20 rounds of 10 screens. Each screen is divided into 2 halves and the basic aim is to manipulate the blocks on the left-hand side so that they match the pattern of blocks on the right-hand side.
Horror-Puzzel
Sliding puzzle CPX game on a 7 by 7 grid.
LOGICAL CALCULATOR

MAZE

Minos (GEM)
Labyrinth as an accessory.
Nosco
A rather complicated puzzle game in which your aim is to position all the balls in a straight line. This is complicated by the presence of blocks which move each time you click onto a ball. Unfortunately the docs are in French.
Pin Game
An ACC version of the board game Solitaire.
Push Box
Guide the storeman around pushing boxes as he goes, in an attempt to get all the boxes into the store room. However, you must work out which boxes to move and where to move them to or you will be unable to complete the level. A great logic puzzle with several levels.
PUZZEL

PUZZLE

Take Two/Match
Take Two is a Match-It type tile game. There are various different tile sets, different grid sizes and several difficulty levels. Your aim is simple, to remove all tiles from the playing area before your time runs out. This is done by removing pairs of tiles which can be linked by a straight line, this must change direction no more than twice on its route. Time limits are tight and this game presents a real challenge. As well as the game itself, there is a level editor and a solver program (to ensure that the new levels you create are solvable!). Needs 1 Mb, STE enhanced.
Triples
Parlour game for 1-3 persons with a mixture of memory and picture puzzle
FaST Club Entertainment 160
Cribbage
The card game.
Draw Poker/Double Down
A well implemented simulation of a Casino poker mackine.
Galerie
A German card game which runs in high or medium resolution.
La Belle Lucie
La Belle Lucie (sometimes called Alexander the Great, Clover Leaf, Fair Lucy or Midnight Oil) is a patience program played with one pack of ordinary playing cards. La Belle Lucie runs on an Atari with colour monitor (or television) in medium resolution.
R AND N

Spider (Doucet)
Computer solitaire using two packs of playing cards.
FaST Club Entertainment 170
3-D Labyrinth
A three-dimensional maze game. The size and thus the difficulty level can be changed. The aim of the game is to leave the garden with as few steps as possible. You can use different aids, such as compass, aiming pillar, position and maze display. With Source
CPX Reversi
The initial game allows you to go first. You have the 'O' pieces. You place a piece opposite a piece of the opposing player. This causes all opposing pieces between your newly placed piece and a previously placed friendly piece to 'flip' over to your type. This works both horizontally, vertically and diagonally (all at once). The player with the most pieces at the end wins.
Dominoes
Requires a lot of concentration if you want to  place the different color tiles correctly on the playing field.
GNU GO

Go! Board 3.0
Implementation of the popular board game on the computer
QUICK DRAW

Reversi (ACC)
The popular game as an accessory.
Risky Construction Set 1.5 - English
Risky is a beautiful variation of the popular conquest game, from which it clearly stands out - thanks to new cards. The fact that the author of the program makes the Canary Islands the scene of the conflict makes the player think of tourist crowds and sandcastles. More maps can be created with the built-in editor, but Dutch language skills are required of the player.
ST AGGRAVATION

YAHTZEE

FaST Club Entertainment 200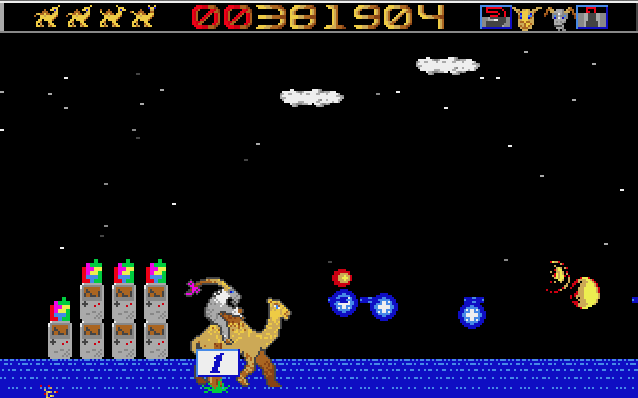 Llamatron
LLAMATRON: a shareware game designed and coded (in assembler) by Jeff Minter, with 100 levels and some *wicked* sampled sound FX. LLAMATRON is controlled by a joystick. It is a shoot-'em-up based on the Williams Electronics classic ROBOTRON. The game can be played alone, with a computer-controlled 'droid helping you, or with a second player simultaneously.
Revenge of the Mutant Camels
Fast-paced shooting game, conversion of the 8-bit game.
FaST Club Entertainment 210
FaST Club Entertainment 211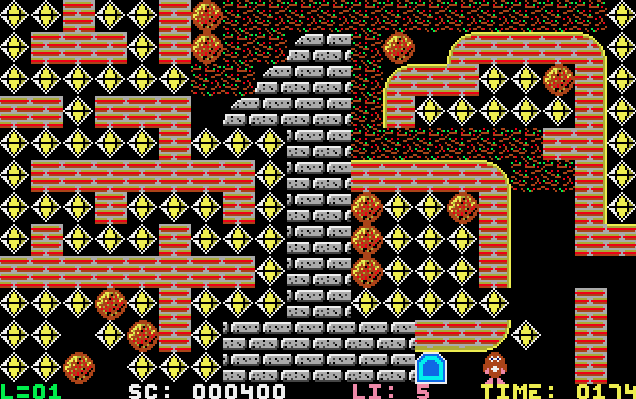 Airfleet Woodlouse Game
On the screen there are lots of little symbols, each of which represents an object. You control the woodlouse, which is a small armoured creature with two red antenna on the front end and a stripy body. The aim of the game is to eat up all of Farmer Browns little green seedlings.
Codename Bomb
Fly around a maze in your ship, collecting the bombs
Companion I
Classic space shooter game. However, it stands out positively from the other representatives of this genre by its unusual presentation. With a background story, which can be displayed on the screen via a mission briefing. Graphically and soundwise above average
FINAL COMPUTER FIGHT

Gold Seeker
The object of Gold Seeker is to recover gold from pirates which has been scattered throughout their dungeons. To do this you must maneuver your gold seeker (yellow) while avoiding the pirates (blue) and other hazards. Pirates will move the gold, you must get it from them. If you are caught by a pirate, you die.
Pyramid
Puzzle game - place coloured tiles so that the colours on the edges match up with adjacent tiles
Rockfall
Rockfall is a game based on the classics Boulderdash and the Repton series. Therefore, you should have a fairly good idea of what the game involves, but there are some differences. The basic idea of the game is to collect all of the diamonds in each level. You do this by simply walking over them with your character.
Sno-Fite
A fun two player game where you score points for hitting each other with snowballs. The better the hit, the higher the score! Don't forget to build up your barricades by building a snowman first!
Space War 3.1
Shooting game for two players with many variations.
STOS Path Editor (Demo)
STOS path editor. Creates sprite paths for STOS games. Demo game included
War Jeep
Shoot down planes and helicopters with your jeep mounted cannon
Ypsilon
Tron style game for 2 players
FaST Club Entertainment 212
Astro Tunnel
This is a game created using sprites developed in Sprite Master which is also written by Chris.
Bermuda Race II
Game for all hobby sailors, sail from Newport, Rhode Island to Bermuda in the shortest time possible. Sailing beginners can take a small theoretical quick course in sailing before the race starts.
Bingo (Tufft)
A variant of the popular game. Ten cards, each having 15 numbers, can be printed out for use with the game.
Breakanoid
ST Breakanoid is a full-screen, full-colour game that is actually a cross between Breakout and Arkanoid*, hence its name.
D-Fission
Board game for two players.
Duck Rogers of the 20th Century
An original shoot 'em up!
EPD

GREED

Illusion (Arkanoid clone)
Another good Arkanoid clone. This one even includes its own construction kit. Create your own levels.
Jumpster
Another Q-Bert game. Colour only.
Master Break
Breakout variant in colour. A ball must be used to hit stones, which contain numerous bonus items.
Ms.Pac.
A fast action multi-level Pacman clone. Great graphics, animation and sound but you have to be quick with the joystick! Great fun.
Space Invaders (Leong)
This one will take you back a bit. Two versions in one game (modern and classic) plus three levels.
Super Break-Out (PD)
Super Break-Out by Mark Overmars. It contains most of the good ideas of the existing breakout games and many new features. There are over 40 different types of stones, all with special features. There are many different types of bonusses, many types of monsters, 5 different types of levels, etc.
Trifide
A Galaxians clone.
Zxym
Shoot'em up style game with nice smooth colourful graphics
FaST Club Entertainment 213
FaST Club Entertainment 214
ERG's SPACE WAR

Lost Treasure
Variant of the 8-bit classic Lode Runner. With level editor.
Luna Lander 1.1
This is a version of the classic ATARI arcade game "LUNA LANDER" and runs on any ST in both colour and mono.
Mercy Mission
A text only adventure game from the author of Darkness Is Forever. Your mission is to rescue the five princes and princesses of Kayn from the evil Kargz, who has imprisoned them in the Place of Heaven.
Mountain
Patience style game - build up a mountain of cards so that the cards match the cards either side of them by suit or value
Pulse-Rider
Another light cycles game, similar to Fulltron.
ROCM

SLUG

Stoneage Deluxe

VAX GAMES


Snake: A snake in search for food. Beware of your own tail.
Qix: You must surround 75% of the screen without getting caught (similar to STIX).
Nibbler: A snake winds its way through a labyrinth.
Pacman: Comment superfluous.
Robot: The playing field must be cleared without touching the rather intrusive robots.
FaST Club Entertainment 215
Fate Master
Role-playing game in the year 2636: The planet Tafoi is to be reconquered by UN troops. Before the allied landing, Commander Tsin-Fei is transferred to Tafoi to get an idea of the strategic situation. Armed only with a pistol and his clear mind, Tsin-Fei mingles with the people, i.e. the alien beings and beasts that populate the planet. Fate Master is characterized by its graphic design and simulation depth. In German language.
INSECT

Penguin
A Shareware game from B.Bytes which was originally sold for £20. Register with the author for £5 and you will get, an instruction sheet and other special offers. The game itself involves moving a variety of objects, arrows and bridges, around the screen in order to guide your penguins safely through a multitude of levels. With four penguins to guide at a time, it can become a bit of a challenge.
Rabbit Jump
Further development of Clowns & Balloons. A rabbit has allied itself with the fox to get as many carrots as possible over the fox's back. These fly in 3 rows over the animals and can be 'eaten' by touching them.
FaST Club Entertainment 216
FaST Club Entertainment 217
FaST Club Entertainment 280
FaST Club Entertainment 281
FaST Club Entertainment 301
DGDB

DRACHEN
Drachen version 2.0 by Dirk Woitha. A good adaptation of Mahjong Solitaire
GNU CHESS v3.15e

GO-UP

KRABAT

Kreuz As
Conversion of the slot machine
MATHMAZE

PATIENCE
Patience variant in which you use two packs of 52 cards. The rules as similar to those for patience except that you have to make the cards up into eight suits (two of each type) rather than four. The game is very well structured with built-in on-line Help, hint and take back options and so on. Very addictive and challenging gameplay.
Pentimo
Different puzzle pieces must be placed in a field of any size. Pieces can be turned and rotated. Field size adjustable.
Poker Squared
If you enjoy solitaire, and you like poker, then you're gonna love this game! Twenty five cards are dealt, one at a time into a square on the right side of the game board. You must decide where to place each card on a grid of twenty five squares.
Tic Tac Toe (TTT) 1.5
Mixture of Four Wins and Tic Tac Toe. Pieces are placed in four levels. Strong computer opponent.
TRIO
In a matrix, the player and the computer place three stones each, which each tries to move into one row.
FaST Club Entertainment 302
FaST Club Entertainment 303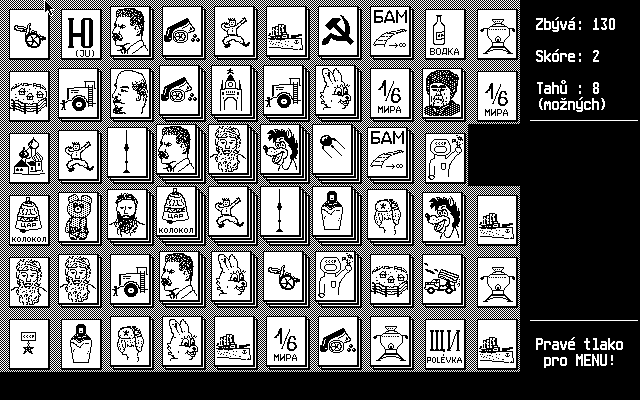 FaST Club Entertainment 304
FaST Club Entertainment 400
FaST Club Entertainment 401
FaST Club Entertainment 801
Adventure

Around the World in 80 Days
What we would like you to do is, Travel the world in 80 days or less. This is not so easy as there are slight risks involved. The risks are not so drastic that you will be killed but could be diverted to far away places. On your travels we would like you to pick up 17 souvenirs (one from each major city) and return back to London.
Dudley Dilemma
Another text adventure created with the Adventure Game Toolkit. This adventure won first prize in a competition run by the authors of AGT. You are a student living in Dudley House. You begin your quest for knowledge, adventure and a diploma.
EL BOZO CITY

Enchanted Realm
A text adventure set in a medieval forest by John Ure.
INVASION
Invasion is an adventure set on a huge spacecraft, lurking behind the dark side of the moon.
NAVIGATE

PARANOIA

SHERLOCK
Good variation of Cluedo. The player has to interrogate suspicious persons and solve a murder.
TARK

Traffic

FaST Club Entertainment 802
TURRETS

Wizard's Tower
This is a well written and illustrated graphic adventure by Chris Lloyd using STAC. New updated version. Well worth getting. Also included are over 100K of help files for playing Ultima IV.
FaST Club Entertainment 803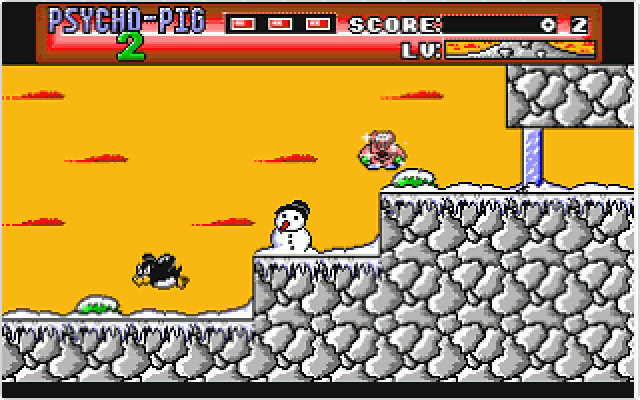 Psycho Pig II
A platform game which takes place over four locations i.e. jungle, desert, mountainous and underwater. Some baby crocs have been kidnapped and it is your job to mount a rescue mission! You control the Pyscho Pig of the title, and a mean brute he turns out to be. There are lots of baddies to dispose of and objects to collect to acquire bonuses. Successfully complete the four locations and progress to a fifth level to finish your mission.
ST ADVENTURE WRITING SYSTEM

FaST Club Entertainment 804
THE THREE REALMS OF SUSPICION v1.2

FaST Club Entertainment 805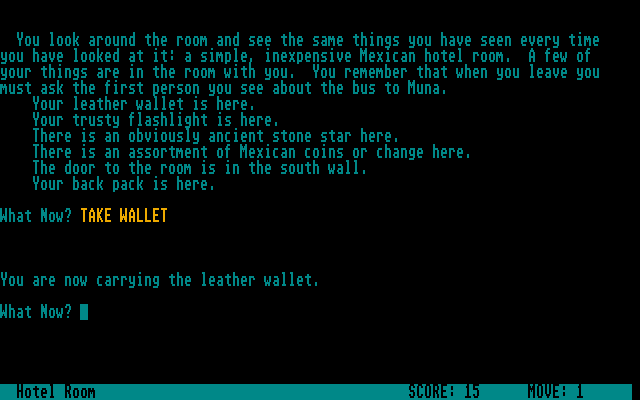 BATTLE OF PHILLIP AGAINST THE FORCES OF CREATION

CRUSADE

Magic Mansion

PORK 1

PORK 2

Quest for the Holy Grail

SIR RAMIC HOBBS AND THE HIGH LEVEL GORILLA

SQUYNCHIA

Star Portal

STORMS

The Pyramid of Muna
Explore the ancient Mayan Pyramid in Mexico as you attempt to discover its hidden secrets.
FaST Club Entertainment 806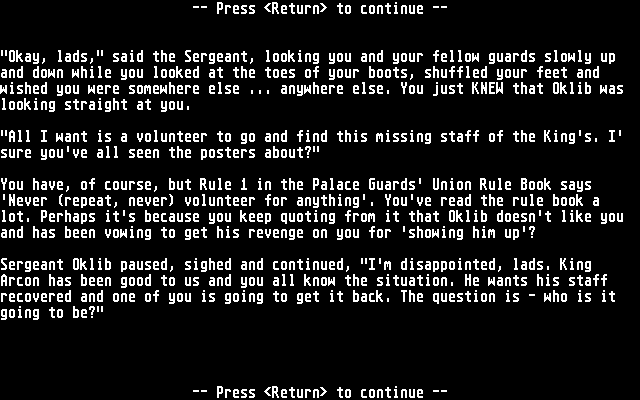 Oklib's Revenge
In this role playing game you play the part of a palace guard. A volunteer is needed to discover the whereabouts of King Arcon's missing staff, and the sinister Sergeant Oklib has got his eye on you for the job. Soon the victim of one of Oklib's tricks, you find yourself being propelled through blackness as the result of a spell. Can you succeed in your task? An impressive text only adventure, definitely one for fans of the genre.
STOS Adventure Creator
The STOS Adventure Creator (SAC) is a programming tool for STOS Basic users. It allows you to create your own text and picture adventure games in STOS. A Creator program helps you to set up all your locations, objects and special events.
SynTax

FaST Club Entertainment 807
Elven Crystals

The Pilot

Wish You Were Here

FaST Club Entertainment 808
EAGLESTAR

Public Investigater

SUSAN

FaST Club Entertainment 815
Grandad II - In Search of Sandwiches
Grandad 2 : The Search for Sandwiches! YES, Grandad is back! Grandad 2 is one great adventure game. Anyway, this game is slightly different from the first one. First difference, Grandad has lost his pants. Second difference, he is on a three-wheeler. As bizarre and hilarious (or more) as the first one, this is a pretty cool game.
FaST Club Entertainment 840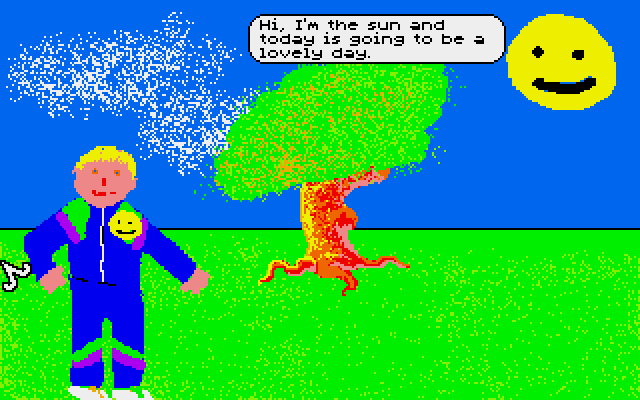 Michael's Big Adventure
Written using Talespin for his son Michael. This is a very simple adventure, essentially designed for children. Control the action using the mouse, no typing is required. Plenty of puzzles and lots of characters to meet. Suitable for children of eight years and above.
FaST Club Entertainment 861
Everyday Adventure

HERO II v1.31

KING

LARN12

Unix Moria
A game which was originally written for UNIX machines before being ported to the ST. It has a similar feel to Hack and Larn
FaST Club Entertainment 862
NETHACK v3.0

Unix Moria
A game which was originally written for UNIX machines before being ported to the ST. It has a similar feel to Hack and Larn
FaST Club Entertainment 871
FaST Club Entertainment 872
BARDS TALE HELP DISK

Dungeon Master Solutions

King's Quest solutions

FaST Club Entertainment 890
CHEAT! Issues 1, 2 and 3

THE CHEAT FILE v2.0

THE ULTIMATE CHEAT GUIDE 2

FaST Club Entertainment 903
BANAN STE

SPECTRUM MOVIE

STE JUNGLE DEMO

YO STE